schmiggens
Outrageous


offline
Registered: Apr 2003
Local time: 07:08 AM
Location: In The Zone
Posts: 18698





Cars made for James Bond, Al Capone and Hank Williams, Jr. to be sold at auction.

November 14, 2005; Posted: 1:18 p.m. EST (1818 GMT)

NEW YORK (CNN/Money) - James Bond's car -- really, the James Bond car --will be going up for auction in January. Cars custom-built for Al Capone and Hank Williams, Jr. will also be for sale at the same event.

The 1964 Aston Martin DB5 driven by the character James Bond in the movies Goldfinger and Thunderball will be sold to the highest biddder at RM Auctions' Vintage Motor Cars in Arizona to be held in Scottsdale, Ariz., on Jan. 20, 2006.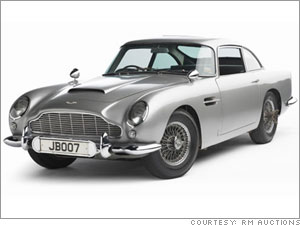 The car is one of four created for the films and for promotional use. The car has a variety of optional equipment for both offensive and defensive purposes. This includes a pair of .30 caliber Browning machine guns that deploy from behind the headights (these are non-firing props), and a wheel-mounted tire slasher. An oil-slick ejector squirts out from the left-rear light cluster and a smoke-screen system is located next to the car's exhaust.

The license plate revolves to display any of three different plates and the car still has its hydraulic ramming bumpers. In the interest of safety, the ejector seat has been replaced with a standard, non-ejecting passenger seat. RM Auctions would not comment on the car's estimated value.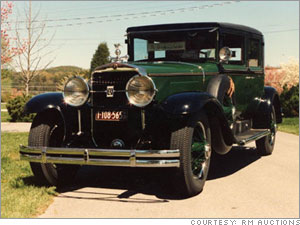 A 1928 Cadillac built for the Chicago gangster Al Capone includes some similar features. It, too, has a smoke screen device and it's bullet-proof, with steel-plating reinforcing the car body and with windows more than an inch thick. The back window folds down to facilitate the use of firearms. The car is painted in the same color scheme as Chicago police cars of the time and it's equipped with a siren and flashing police lights.

The car was seized by the U.S. Treasury Department and is said to have been used by President Franklin Roosevelt for a short time. It's value is estimated at $250,000 to $500,000.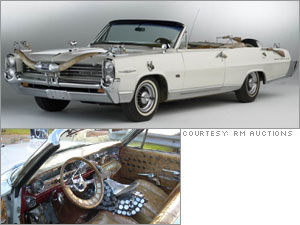 Hank Williams Jr.'s 1964 Pontiac Bonneville used guns in a different sort of way. The car is decorated with 18 pistols -- 12 large ones and six small ones -- as well as 547 silver dollars, 12 silver horseshoes and 17 sterling silver horse heads. Inside, the center console is fitted with a saddle. The car's estimated value is $100,000 to $200,000.


It would be cool to be one of those millionaires with all the fancy cards but make them all famous cars. I remember KITT from Knightrider was for sale not so long ago, if you could get that, the James Bond car, the car from Dukes of Hazard, Harry Potter (if the thieves return it
) etc, it would be cool.


There have been a lot of famous Hollywood cars throughout time.